Billy Brandt - guitar, vocals
Nolan Mendenhall - bass, vocals
"Roscoe" White - electric and acoustic guitar
MP3 Samples
New Tricks
Perfect World
Hole In The Middle
Grievous Angel
Down By Love
Oh, Mama
Grievous Angel… Outstanding Acoustic Group, Outstanding Folk Group - Detroit Music Awards
Grievous Angel has been delighting fans at festivals, concert venues and juke joints throughout Michigan for years now, delivering their own rollicking brand of American roots music. Revving up at the fabled crossroads where folk, rockabilly, blues, and alt-country were born, they burn rubber through the backwoods and bayous of the American south. This musical road trip careens through west Texas, Memphis and the gut-funky soulful side of their own native Detroit. The Smithsonian can keep the artifacts, Grievous Angel rumbles across the length and breadth of American music with a lot of down home grease and nary a whit of reverence. A soul strut is as likely to wind up in the gas tank as a Fort Worth shuffle. These guys will burn anything to get where they're going. The map blew out of the window at the last truck stop, so just sit back and enjoy the ride… Grievous Angel.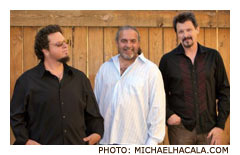 Billy Brandt has deep roots in alt-country, earning him a loyal following and an outstanding instrumentalist honor (Detroit Music Awards). Billy's ringing acoustic guitar and soulful voice are at the center of Grievous Angel, evoking Neil Young, Gram Parsons and Bob Dylan. When Billy sings it, it's the gospel truth. His own Drum Dancer records has championed alt artists from Jill Jack to High Flyin' Bird.
Bassist Nolan Mendenhall has played with Wilson Pickett, Joe Tex, Phil Ochs, Joan Baez, The Drifters, Gary U.S. Bonds, Junior Wells, Earl Klugh and countless others, garnering 3 top producer honors (Detroit Music Awards) and Best Jazz Bassist (Metro Times) along the way. From folk to reggae, blues and back again, those supple bass lines knit it all together.
Guitarist Roscoe made his bones with the Chisel Brothers, Thornetta Davis and the MC5. That dazzling fretwork has low-down blues roots and those melodic flights of fancy wrap right around your heart. His accolades include a win as Producer of the Year (Detroit Music Awards) and many credits as a player and engineer. Roscoe's Recording in Detroit boasts a client list including Sponge, Eminem The Orbitsuns, Jill Jack, Liz Larin and others.
The end result of combining these eclectic backgrounds is Grievous Angel. The common ground runs from Bo Diddley to Bob Dylan, from the Band to Hank Williams. Pastoral folk excursions, cosmic jamming, retro rock and roadhouse boogie spill over into a sound that's pure joy: soaring harmonies and turn on a dime musicianship. Hop in, drop the top and hit the road.
For Booking information: Call Billy Brandt at 248-545-1232 or 313-770-9540 or email contact@drumdancerrecords.com
To Join Grievous Angels mailing list: send a note to contact@drumdancerrecords.com and leave your e-mail address.